I have recently started using basmati rice instead of cheapy cheap supermarket basics white long grain rice.  It was an experiment, fortunately a successful one, driven by the Baby Peachick and her reaction to the white rice.  I have no idea why she can't eat rice but baby rice, rice milk and cheap white long grain rice have her breaking out in rashes and being generally miserable.  This has lead to us using more expensive rice but with the saving in Piriton it probably pays for itself in the long run!  So far she has been fine with pudding rice, aborio rice and now brown basmati rice, which is good because she LOVES rice – paella, risotto, rice pudding – you name it she will eat it!
As usual calcium intake is a big thing in this house so any way of cooking with a dairy substitute is fine by me, so cooking the rice with half Koko milk and half water adds some extra, all important nutrients to the dish!
Every other week we get a veggie box, the last one we got had some lovely carrots (now slightly past their best sadly), a kohl rabi and the Peachicks favourite, Candy Striped Beetroot.  I love the fact that roasting veg means that you can use up the last bits of veg that maybe aren't still as fresh as they used to be and clear the fridge ready for the next box to arrive!  The reason the Peachicks like the candy striped beetroots is because when grated they look pink!
We had this with Roast Pork but it would be amazing as an accompaniment to any BBQ, particularly Mackerel, Salmon or some nice marinated BBQ'd chicken skewers!  The mild curry paste and coconut milk in the rice give a really nice subtle flavour to the rice, if you want the rice to have more flavour then add a couple of extra teaspoons of curry paste and substitute the water for Koko.  The vegetables can be done on the BBQ or oven roasted, we have a tiny BBQ so they get oven roasted here!  This months Tea Time Treats is BBQ Fodder so I will be adding this little lovely into the challenge!
Ingredients - coconut rice
| | |
| --- | --- |
| Serves 4 | |
| 1 mug Brown Basmati Rice | 1 mug Koko Dairy Free |
| 1 mug water | 1 clove of garlic (thinly sliced) |
| 4 medium carrots | 1 tsp Korma Curry Paste |
| 3 small beetroots | 1 kohl rabi |
| 1tbsp Olive Oil | Salt (optional) |
Method:
Chop up the kohl rabi, carrots and beetroots into similar size chunks (about 3 inch chunks) and coat with the tablespoon of Olive Oil.  Place in an ovenproof dish and roast at 200C until soft (about 30mins).
While the Veg cooks, pour a mug of Koko milk, a mug of cold water and a mug of brown Basmati rice into a saucepan.
Add curry paste and garlic slices and stir until paste is combined.  Cover and bring to the boil.
Once boiling lower the temperature and simmer until the rice is cooked.
Add the rice to the dish of vegetables and mix together.  Season to taste ( we don't add salt), serve in the dish and let everyone dig in!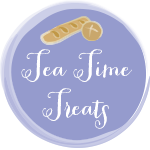 This month's Tea Time Treats is BBQ Fodder and is hosted by Janie over at the Hedgecombers.  Tea Time Treats is a monthly blogging challenge hosted by Lavender and Lovage and The Hedgec0mbers.