Living with Severe Hayfever: A Billion Pollen Grains, 2 Grumpy Lungs & Me!
Living with Severe Hayfever: A Billion Pollen Grains, 2 Grumpy Lungs & Me!
The pollen levels are rising, I can feel it, my lungs feel like I'm carrying around 2 oversized swimming pools whilst trying to breathe through a straw with playdough over the end.  I spent the whole of last summer off work, I am off work because of it now.  Pollen is not my friend.  There were several reports the end of last week that the pollen levels were due to rise significantly over the following few days and would become severe into this week.  I missed them, I was on holiday, to be fair I didn't need them.  I was popping anti-histamine tablets and attached to a nebuliser for most of the weekend.  Although that didn't stop me from going to both Newquay & Paignton Zoo as well as a Cyder Farm and the South Devon Chilli Farm; they were just more sedate visits than they usually would have been!  I think we stopped at every play park on the way round, that never happens. Ever.
Pollen are tiny grains released by plants & trees during their reproductive cycle.  They are the male dna, the plants sperm, released into the wind or onto insects with the hope of finding a female plant and making baby plants!  If you want to know about the science bit click here.  Pollen itself is actually really interesting, under a microscope its just amazing.  Pretty and delicate but so angry looking at the same time (reminds me a bit of E when she's having one of her gingernut moments)!  Have a look for yourself, here is a link to a google image search.
Asthma UK has great information about pollen, hayfever and the effect it can have on your asthma, alongside a pretty graph detailing when the major allergy causing pollens are at their highest levels.  There is also a lot of great information about how weather affects pollen levels and tips on how to manage your symptoms.  My lungs objected violently to it and it is the reason I can't eat a lot of kinds of fruit or come into contact with latex.  It is also why I can't drink alcohol in the summer!
Top Tips for Surviving Hayfever:
ALWAYS carry your medication with you.  EVERYWHERE. NO EXCEPTIONS.
Be aware that pollen levels are at their highest on sunny days and before 10am in the morning (and sometimes late afternoon as it falls back down again).  Although thunderstorms in pollen season can be extremely dangerous for respiratory conditions that are aggravated by pollen.  My worst attacks have mostly been just before those heavy summer rainstorms or thunderstorms.
Check pollen count before you leave the house.  The Met Office releases them for the next 5 days.
Go to the beach.  Be smart about how you structure your days, easier said than done with work I know.  In those weeks of the summer holidays with restless children to entertain forests & farms will not be your friend, go to the beach as near the coast the pollen count should be lower!
Go see your GP, asthma nurse or consultant if your normal medication is not working.  Its what they are there for!
Tree pollen & Hawthorn is one of my worst triggers but I can't resist a photo of tree blossoms its just gorgeous!
Me & My Lungs
You may have seen a few tweets around of me moaning about my lungs.  Sorry about that, sometimes I need a good rant because I have allergy triggered severe asthma or brittle asthma or whatever they call it these days.  This means that the asthma attacks I have appear out of nowhere and deteriorate pretty quickly.   The pollen can reduce me from being very active to being unable to move off the sofa, its very annoying and I know not just for me!  I carry a nebuliser with strict instructions on how much I can take before checking in to the nearest Costa Del NHS resort.  Its not generally advised to carry one and the first thing doctors do when I first see them is try to take it away but the ventolin inhaler/spacer combination only works if you are actually conscious enough to shake & press the thing!  I am also registered to the nhs 999 text service so that if I need the Little Men in Green I should be able to get them myself.  Very handy as the worst place in the world for me in the summer is the Peachicks' School playground as its right next to the school's wild meadow complete with carpet of wildflowers and resident sheep!
For more information (either as an asthmatic, carer of one or first aider) on how to treat an Asthma attack or when to get help visit the Asthma UK pages, they as a charity have helped me a lot over the years, their advice line is fantastic and the support from the online forums has been amazing on those days when I feel completely rubbish and just about ready to give up.  You can also download personal action plans to fill out with your asthma nurse – every asthmatic should have one!
So Pollen rant over, I would like to wish everyone a safe & symptom free allergy season!
Linky Love:
I'm linking this post up to #BloggerClubUK over at Cuddle Fairy & Mudpie Fridays as well as Brilliant Blog Posts at Honest Mum!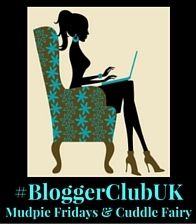 ---
---