Birthday cakes, eggs and a trip to the zoo!
So I had my birthday a couple of weeks ago.  Having crossed to the otherside of the big 3-0 birthday I am loving my birthdays again (don't ask about the 30th… it involved sickness bugs and general sulking!).  This year the plan was breakfast out followed by a picnic at the zoo… It was lovely, amazing breakfast and a lovely sunny but cold day wandering around Marwell!  But obviously all you lot want to know is what cake did I have (spot the ones who haven't checked out the facebook page!!).  I had some pistachios, hazelnuts, dates and dark chocolate lying around the house and decided my present to myself would be to dispense with fondant – I HATE FONDANT!! Well ok I dont I love messing around making flowers and cutting out shapes I just hate trying to get it smooth without sticking my fingers through it!
My original thought was that the birthday would be a perfect excuse to dump the Peachicks with Daddy Peacock for an afternoon to whip up an entry to January's Tea Time Treats… which could double as a baked birthday item!  January's theme was eggs…. those of you who know me will know that I DO NOT DO EGGS (yolks in particular)! The only good egg is one still in the box in the shop… although to be fair I can now crack eggs and only mildly freak out if I get it on my hands (although there must be a bowl of hot soapy water around to wash my hands in after the egg cracking is done)!!
I should explain that actually I have an allergy to what they call 'loosely cooked' eggs – i.e whole eggs not hidden within anything else and partially cooked ones.  this means yorkies in our house are crispy, meringues are well done and quiches are just banned!
After my initial – what on Earth am I going to make for that  – and a little consideration I actually couldn't decide what to do!  Having settled on a lovely hazelnut & chocolate sponge with crushed coffee meringues on top I promptly got far too busy with work and Peachicks to actually type the recipe up… luckily February's theme is chocolate so I shall be entering this month instead!
I love chocolate, well dark chocolate and especially when combined with something slightly savoury like hazelnuts, almonds or coffee.  If I'd had more time I may have added some grated dark chocolate but to be honest I don't think it needed it.
Right the cake – It was 3 tiers high – the middle one was a random chocolate sponge mix I had left over for xmas so I used that up… but pretend I didn't… the recipe will make three small tiers!
Ingredients:


Cake….
6oz Dairy-Free Margarine
3Floz Vegetable/Sunflower Oil
12oz Sugar
6 Eggs
3tsp water + 1tsp instant coffee
12oz Self Raising Flour
2oz Cocoa powder
Handful of crushed hazelnuts & dark chocolate drops.
Buttercream (enough for middle and on top)….
8oz Icing Sugar
2tsp Cocoa powder
2oz Melted Dark Chocolate
3 and a half oz Dairy Free Margarine
Method:
For the sponge cake use your favourite method… personally I use a mixer up until the last step of adding the flour at which point I use a spatula to fold the flour in.  You could probably just chuck all the ingredients in together and mix.  I don't.  But that's just me!  I also bake them in tall, round cake tins rather than the traditional shallow victoria sponge ones, I forget why.  I line bottom and sides with Bake-o-glide (fab stuff – and I still haven't got anything stuck to it and believe me I've tried!!).
First I cream the butter, oil and sugar together.  Then add the cocoa powder with the eggs and beat it until quite fluffy.  Then add the coffee mixture (make sure its cool).  Take the bowl off the mixer, grab a spatula and fold the flour in gently until just combined.
At this point put a third of the mixture in one tin, then another third in another.  To the final third add the handful of hazelnuts and dark chocolate drops.
Put the three cakes in the oven and bake at 180C for about 15-20mins until cooked and a skewer comes out clean.  Leave them to cool in the tin until hand hot and then turn out until it cools completely.  I cool the cakes upside down it helps to made them flatter.
When totally cooled sandwich together with the buttercream (which I made by putting all the ingredients into a bowl and whisking together).  I pipe a thick ring of buttercream round the outside of the top of two of the cakes and then fill in the middles.  Once sandwiched together I use a pallette knife to take off the excess that squidges out of the middle and spread it over the top.
Finally I crushed some coffee meringues over the top… you could just use shop bought ones!
This cake was fab and all gone by Monday… with a little help from the girls at work and some greedy peachicks!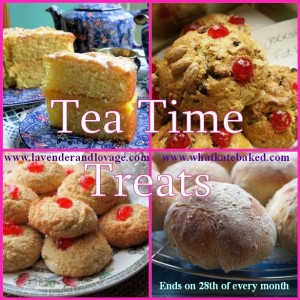 Tea Time Treats is a monthly blogging challenge and is hosted by Karen of 
Lavender & Lovage
 and Jane of
Hedgecomers
.  The theme for February is 
Chocolate.
---
---