Mrs O's Fuss Free Mixes Review
Fuss Free Cake Mixes Review: An easy to use completely Free From cake mixes from Mrs O's
~
The Peachicks were very excited to be sent a pack of Mrs O's Fuss Free Cake mixes to review.  Especially as my lovely bestie has discovered that Gluten is REALLY not her friend and has been missing cake quite a lot since going gluten free.
Mrs O's fuss free mixes range now includes various flavours of cakes, brownies AND Melt in Your Mouth biscuits which we have reviewed here.
We were supposed to be going to the Childcare Expo together at Olympia to pick up some goodies for work but sadly I had to stay home at the last minute due to a poorly Peachick. She still went and then came here for tea afterwards complete with haul of goodies including some multiplication rainbows AND a very very cute set of owls designed to help kids with their number bonds! (if you have no idea what I am talking about – sorry!!)
~
~
Anyway, I made us all a very nice dinner of Ratatouille (recipe here) Finished off with a yummy Victoria sandwich cake complete with buttercream and raspberry jam!
The cake was a mix I had been sent by Mrs O's Fuss Free Mixes to try out and apparently tasted as good as it looked! I have one happy Bestie!
Mrs O's Fuss Free Mixes can be found online and were created after Mrs O's daughter developed an egg allergy.  All the mixes are egg free and are certified organic as well as approved by the vegetarian society!
~
~
The mix contains a blend of flours, sugar, raising agents and vanilla. The flour blend did contain rice flour so not suitable for frequent use in this house, but Miss J has no such problems!
The cake mix was so easy to use, the cake literally went from bag to cooling rack in an hour, 50mins of that was cooking time and another 5 was me trying to find the coconut milk in the back of the cupboard!
~
~
The instructions call for white wine vinegar and rice milk but I only had apple cider vinegar and our usual Koko Dairy Free.
The cake still worked really well, it was light and fluffy, well risen and I even managed to cut it through the middle when it was cooled!
It had a lovely crispy outside almost like a madeleine or brownie and (unlike some gluten free cakes I had tried) none of that starchy texture when you ate it.
Mrs O's baking mixes are all egg free with some gluten free too. They are dairy free, nut free and because they are made with milk alternatives, vegan as well.
~
How easy are Fuss Free Mixes to use?
SO EASY!!
The instructions were easy to follow – I did find a tiny spelling mistake (sorry that'll be the teacher in me!) but seriously that is the only thing I can fault!
The cake mixes are quite expensive (around £5.50 each) but considering they are nut free and it can be hard to find ones that are, I think they are worth it.
Besides they make a substantial cake, it was big enough for all 6 of us to have a giant slice and Miss J still took half of it home with her!
~
~
I sliced the cake straight through when almost cooled so it is definitely sturdy enough to be crumb coated and then put fondant on.
This means that for special occasions it can be a cheaper alternative to finding a bakery that will actually be gluten free NOT just use gluten free ingredients in an otherwise not kitchen!
I will definitely be using these again if anyone ever wants a special occasion cake as it will probably work out slightly better value for money than buying the different flours – plus they come in a few flavours and I am pretty certain this cake mix could have different flavours added to it as well!
~
~
Recipe using Mrs O's Fuss Free Mixes:
Ingredients
1 bag of Mrs O's Eggfree & Gluten Free Yummy Vanilla Cake Mix (£5.99)
100g Dairy Free Spread (Vitalite) Melted
200ml Milk alternative – We used Koko Dairy Free
1tsp White wine vinegar – we used apple cider vinegar
1tsp Vanilla extract
Instructions for using Mrs O's Fuss Free Mixes:
Preheat the oven to 180C and line an 8inch cake tin.  I use bake-o-glide on the bottom and around the sides of a springform tin because I like the reliability and I am far too lazy to be cutting up greaseproof paper everytime I bake a cake!  Plus the Bake-o-Glide sort of seals the sides of the cakes to give a smoother surface for crumb coating!
Melt the margarine in a microwave (I use defrost setting for around 30seconds at a time) and watch it like a hawk until melted.  Mix this into the Koko along with the vanilla and vinegar.
Sift cake mix into a bowl and pour in the wet ingredients whilst stirring.  It takes about a minute to thoroughly combine and is a really nice (slightly wetter) 'normal' cake mix consistency.
Pour into lined cake tin and bake for around 50mins.  I left to cool completely before removing from the tin out of habit, but I think it would be robust enough to turn out when a bit warm!  Once cooled, slice through with a sharp, serrated bread knife and spread on vanilla buttercream and raspberry jam!
Look a lovely golden brown, vanilla sponge that smelt absolutely amazing while it was cooking and was very hard to stop the Peachicks (and Daddy) pinching crumbs off!
~
And here it is – sliced, filled and then sprinkled with icing sugar, as requested by Miss J, Bestie extraordinaire!
**I was sent this cake mix for the purposes of this review but all opinions are mine – and the Peachicks & they are definitely not backward in coming forward about what they like!**
I am going to send this over to the #Howtosundays over at Monkey & Mouse as well as Sunday Fitness & Food Link up over at Marathons & Motivation as I reckon this is a perfect after gym (or in my case Sunday morning swim) treat!!

I'm also going to send this to #BloggerClubUk at Cuddle Fairy & Mudpie Fridays (This blog name makes me smile everytime I type it!)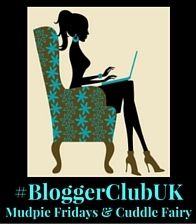 ---
---