Quick Onion Chutney (Dairyfree, Soyfree, Glutenfree)
Perfect for last minute Festive get togethers with friends, my Quick Onion Chutney is amazing with vegan cheese & piled high on crackers, uses everyday store cupboard ingredients AND is ready in just 20minutes!   
If there is one thing the Peachicks & I have to have in the fridge its pickle… honestly I think they would spoon it out the jar if they could! But shop bought ones are often full of sugar and cheap barley vinegar – neither of which I am particularly fond of giving the kids that often.  (Malt vinegar blisters our skin, inside our mouths and often makes us sick.)  So I use apple cider vinegar, which also has the advantage of tasting much better too!  This quick chutney has been a big hit in our house and is slightly lower in sugar… you could also use brown sugar instead of granulated for a darker colour & richer flavour.
Since discovering the Violife Christmas Platter in Sainsburys recently I have made a few batches of this chutney (obviously we had to try the cheese out before xmas) and am pleased to report it is the perfect pairing for the Violife Blu Block.  Its the perfect salty, sweet, sour combination.  And I am very excited about being able to eat cheese & crackers at Christmas without needing anti-histamines first!  The true beauty of this chutney though is how quickly you can make a batch, obviously the low sugar content & no salt is an added bonus, but when you are throwing together a last minute festive feast, the speed is definitely welcome!  Oh and did I mention is it is ridiculously easy to make too?? Honestly the hardest thing about it is shredding the onions – which is completely optional as this would be just as nice with haphazardly cut diced onions!
Usually at this point I would give you all a quick update on life at The Peachicks' Bakery… but to be honest there isn't really anything to say.  I am absolutely shattered still after the shingle/pox drama and just trying to get back into the swing of working.  The Peachicks are all good and busy practising songs for choir performances and nativity shows.  Millie is also excitedly awaiting the hatching of her first leaf insect eggs, although it has only been 4 months so we might be in for a slightly longer wait in this cold weather!
I also have a back log of posts to get live so keep an eye out for them over the next couple of weeks – I have reviews of our evening at Winchester Coffee School and Rana's Artisan Gluten Free Bread mixes coming up as well as a #FreeFromChristmas recipe that is a complete showstopper of a cake!  Ooooh AND a couple of delicious vegan cookie recipes too!
Recipe for Quick Onion Chutney
Quick Onion Chutney
Ingredients
150

g

Onions

1/4

tsp

Ground Ginger

1/2

tsp

Fresh Ground Black Pepper

100

g

Sultanas

75

g

Sugar

100

ml

Apple Cider Vinegar

150

ml

Water
Instructions
Finely shred the onions and put in a heavy saucepan with the spices and stir. Add the sugar, vinegar and water.

Stir over a low heat until the sugar has dissolved. Add the sultanas. Turn up the heat and boil gently for 20minutes, stirring occasionally.

Pour into a clean jar and enjoy with crackers & dairyfree cheese!
Pin Quick Onion Chutney:
Linky Love: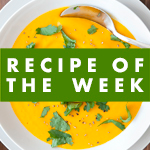 ---
---