#RecipeRefurb Challenge #1 – Slow Cooker Rosemary & Garlic Lamb Breast
Welcome to the very first #RecipeRefurb Challenge! Where I challenge myself to refurbish an old recipe! An idea sprung from a conservation between me & some other food bloggers about giving some old posts some love. AND from my point of view updating either the (often horrible) photos or ingredients to reflect changes in our allergy requirements!  You may have seen that over half term I started updating a lot of my older posts with proper cover photos,  pinnable images and sorting out the SEO for them.  It was one such post that started it all off and it was this one…
And so the #RecipeRefurb Challenge was born!
There was only one recipe that could possibly be the one I went back and 'refurb-ed' for the inaugural #RecipeRefurb Challenge.  It is my most popular, most viewed recipe but in terms of how it looks is without question one of the worst!  In 2016, this recipe for Slow Cooker Rosemary & Garlic Lamb Breast was responsible for over 50% of the total hits to The Peachicks' Bakery.  Crazy.  So here it is the before and after photos of my Slow Cooker Rosemary & Garlic Lamb Breast from remaking it at the weekend!
Sadly I wasn't able to remake this using exactly the same ingredients.  We are currently out of beetroot due to hungry Peachicks AND runner beans and Harlequin Squashes are currently out of season.  These were instead swapped out for more potatoes, parsnips and some pimento stuffed olives. The olives worked really well with the lamb breast which is quite fatty.
Lamb breast is a great cut of meat, cheap and ideal for the slow cooker.  The fat in it means it never dries out or goes tough no matter how long you cook it for.  AND because it is rolled up you can untie it and stuff it with all sorts of yummy things.  This recipe obviously uses just garlic slices, fresh rosemary and seasoning, but for a more formal occasion, a herby breadcrumb stuffing would be perfect!
Ok the new photos are not perfect, I am still playing around with using different camera settings as it slowly limps its way to permanent retirement and all my usual go-to ones stop working! But they are sooooooo much better than the old ones!!  So now you have seen the before & after photos, hop over to the old post and have a nose (there are some very cute Peachick pictures) THEN check out the recipe on its new fancy template below:
#RecipeRefurb: Slow Cooker Rosemary & Garlic Lamb Breast:
Slow Cooker Rosemary & Garlic Lamb Breast
An update of a popular vintage Peachicks' Bakery recipe! This Slow Cooker Rosemary & Garlic Lamb Breast takes a cheap cut of meat and turns in into an easy, elegant midweek feast for the whole family! Stuffed with red onion, garlic and fresh rosemary, rolled and then roasted on a bed of seasonal root veggie in a slow cooker for around 6hours. It will serve 4 big people or 2 big and 3 smaller Peachicks when served with lots of lovely fresh veggies. And don't forget the gravy!
Ingredients
1

Rolled Lamb Breast

3

Sliced Garlic Cloves

3

Sprigs of rosemary

8

Small potatoes

skins on

A few Carrots and/or Parsnips

100

ml

Boiling Water

1

tbsp

Raspberry Vinegar

1

tbsp

Honey

Salt & Pepper

2

tbsp

Green Olives

(from a jar!)
Instructions
Set Slow Cooker to High. Next chop the potatoes and parsnips into thirds and pile into the bottom of the slow cooker bowl. Add the Olives and pour in the boiling water.

Now for the meat. First snip the strings and unroll the lamb breast. Lay it out on a clean board with the inside of the roll facing up and pat dry. Season the meat with salt (optional) and black pepper. Scatter over the garlic slices and chopped rosemary leaves.*




Roll the lamb breast back up tightly and hold together with some wooden skewers. Mind your fingers!

Rest the lamb on top of the veggies and cook for about 6-8 hours on low heat.

Optional variation – At the end of the cooking time you could take all the veggies and meat out and put in a roasting dish on 180C for 30mins just to finish them off.

I skim the fat off the top of the gravy stock in the bottom of the slow cooker and then add it to a saucepan. At this point you can use a cornflour slurry for glutenfree gravy (1tbsp cornflour and some cold water mixed together) or appropriate gravy granules like Bisto best (dairy free but do contain soya lecithin)

Slice and serve with some fresh veggies (these are Peachick homegrown runner beans!!)
Recipe Notes
*You can also make a paste in the food processor out of the garlic, rosemary and some olive oil.  OR add a sprinkle of garlic powder and some finely sliced red onion.  Mint sauce also works well - as does herby breadcrumbs - actually anything you fancy really.
For more Slow Cooker Lamb Breast recipes hop over to my Pinterest Board (Pinnable Image for this recipe below Link Up)…
[pin_board url="https://uk.pinterest.com/PeachicksBakery/lamb-breast-slow-cooker-recipe-inspiration/" size="header"]
Feeling inspired to have a go too? Dust off those vintage posts, give them a #RecipeRefurb and add them to the link below so they can show off their makeover to the world!
Grab a Badge:
Linky Rules:
Join in the  #RecipeRefurb Challenge by remaking a vintage recipe from way back when you first started blogging, a more recent one you wish you could've made differently OR give an old favourite a new & exciting twist!  Don't forget to photograph your refurbished recipe.  Then simply create a brand new post complete with before & after photos, include a link to the old post and if its different, an updated recipe!  Oh and grab a badge from above!
Please remember:
The linkup will run for about a fortnight so plenty of time to get those recipe makeovers finished!
Comment on this post and at least 1 other.
Share the love on Social Media using #RecipeRefurb and tagging @PeachicksBakery and I will retweet/reshare them all!
I will comment, Pin & Stumble all entries & feature the Peachicks' favourite in the next #RecipeRefurb Challenge post.
Pin #RecipeRefurb Challenge #1 – Slow Cooker Rosemary & Garlic Lamb Breast for Later:
Linky Love: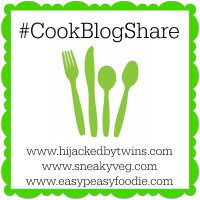 ---
---