#NationalAllotmentWeek – Apple & Blackberry Vegan Scones
Apple & Blackberry Vegan Scones, you've heard of self-saucing puddings. Well these are scones make their own jam! This week (8th-14th August) is both Allotment Week AND Afternoon Tea Week so what better recipe to celebrate both than a scone recipe using beautiful homegrown blackberries?!  
~
Ever since we have lived together we have always grown our own fruit & veg.
While we were at uni this was a couple of pots; mainly herbs on the windowsill, runner beans and strawberries.  These days, we live in a house with very little garden, chosen as I am sure a lot of parents do, for the schools it is in catchment for.
Our veggie patch is about 2ftx6ft plus a few pots, an upcycled pirate water tray and a GIANT bramble patch growing up an old tree!
**And even though we now have our own 5 rod allotment we still grow the brambles out the back!**
~
~
Whilst we wait for an allotment* we make the best of this little space!  This isn't the best picture but you can see we are currently growing runner beans, sweetcorn, spring onions, ruby chard, chives and mange tout in this little patch.  You can probably also see the overloaded bramble bush in the background!
*UPDATE As of March 2017 we now have an Allotment – No17!! And you can read all about our journey from patch of ground to productive plot here… in our new series: Peachicks @No17: Allotment Diaries! 
~
Our Bramble patch…
~
Everyday this week the Peachicks have picked (and eaten!) a bowl of blackberries…
The Bramble patch has actually sparked a whole day of peace for Mummy.  The Peachicks and I spent most of a day sitting in the sunshine, watching & photographing all the different bees that visited the flowers.  The girls were fascinated to see how different species went to different flowers around the garden – currently we have courgette flowers, runner beans, mangetout and nasturtiums alongside the bramble flowers!
~
~
What I love about the mangetout is that all the flowers are different, so far we have had purple, blue, white and these red/pink ones!
~
~
The Veg patch is FULL of allsorts of wildlife!!
~
~
This vegan scone recipe is perfect for using up any of the blackberries that I actually manage to wrestle off the Peachicks.  It is great for using those slightly under-ripe blackberries as they hold their shape better in the dough.  I used a Granny Smith apple so these scones are not overly sweet which works very well as a transition between the savoury sandwiches and sweet cakes/pastries!
~
These Apple & Blackberry Vegan Scones work very well cut out into individual circles but I think there is something really pretty about a ring of scones cooked & cut into triangles.  Its a tear & share afternoon tea!  The blackberries cook gently inside the dough and create beautiful little pockets of fruity jam!
~
~
Recipe for Apple & Blackberry Vegan Scones
Apple & Blackberry Vegan Scones
What better recipe to celebrate both Afternoon Tea Week and Allotment Week than a scone recipe using beautiful homegrown blackberries?! And here they are, Apple & Blackberry Vegan Scones! You've heard of self-saucing puddings well these are scones make their own jam!
Instructions
I cook scones on a preheated pizza stone in a fan oven at 200C but a floured baking tray will work just as well – they may just need a few extra minutes!

Weigh the flour into a mixing bowl and add the ground chia seeds OR custard powder before mixing.

Next add the dairy free margarine to the flour mixture and rub together with you fingertips until you have a breadcrumb like mixture.

Next add the sugar, apple and blackberries before gently stirring.

In a separate jug measure out the dairy free milk and add to the dry ingredients

Now for the messy bit – either use a spoon or you hands – its up to you! Gently stir together all the ingredients until a soft dough is formed. Turn out onto a floured board and gently knead in more flour if its very sticky.

Roll or squash the dough flat and using a floured straight sided knife cut the dough circle into 6 triangles. Cut through the dough but don't separate the individual scones. I roll the dough out to about an inch and a half thick.

Spread out on a floured baking tray and bake for 30mins.
Notes
** check the scones from about 25mins onwards as cooking time will vary with thickness of scones. If you are cutting into individual scones cooking time will be 15-20mins.
~
Pin Apple & Blackberry Vegan Scones for later:-
~
More Vegan Scone Recipes:
We love a scone here at The Peachicks' Bakery.  Check out our whole library of vegan scone recipes or why not have a look at these lovely variations.
No dairy free afternoon tea would be complete without a few sweet scones to plaster with jam & cream.  These Vegan Blackberry White Chocolate Scones are lovely, as our these Vegan Rhubarb & Custard Scones and for a tropical version, check out these Vegan Coconut, Lime Scones which our Alys' signature bake!
For something savoury how about these Wholemeal Vegan Cheese Scones or these very seasonal Vegan Asparagus Cheese Scones.
And for those mornings when you need something speedy for the kids lunches try out this super speedy Dairy Free Cheese & Onion Wholemeal Quick Bread
Linky Love:-
I will be linking these Vegan Blackberry & Apple Scones up to the #TheFoodCalendar over at Charlotte's Lively Kitchen as well as #Cookblogshare (Sneaky Veg Blog) , #TeaTimeTreats (Lavender & Lovage) and #FreefromFridays (FreefromFarmhouse)!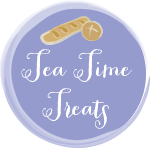 ---
---