Carrot Cupcakes with Cream Cheese Frosting (vegan & Glutenfree)
My favourite cake & an easy to make recipe: Carrot Cupcakes with Cream Cheese Frosting (Vegan Glutenfree)
I LOVE carrot cake, I could literally eat it every day BUT since I Elodie was born I really, really can't eat eggs.  I have always been allergic to them and whole eggs make me very sick but they've always been fine cooked into cakes, yorkies & meringues.  Now I only have to touch a raw egg and I start to feel sick, my head hurts, I feel really dizzy and wheezy.  (Ironically Elodie is the most allergic to eggs – coincidence??)! So began my quest to refine egg free baking – over the last year I have conquered vegan chocolate cake, perfected vegan coffee cake, even sorted vegan fruity muffins AND FINALLY today I have made completely freefrom carrot cake! I cannot stress how excited I am!
Unfortunately this particular baking experiment was carried out at about 7pm it was dark.  Cue spotlights in the kitchen, not great but better than nowt as I know there will be none of these left tomorrow after work and I leave for work REALLY early in the morning!!  So apologies but these are as good as they are gonna get!!
There are two versions of these – half have vegan cream cheese frosting thanks to our local supermarket finally stocking Violife creamy cheese and half have been sprinkled with sugar & oats so they can be frozen for a quick grab-no-go lunch or breakfast!
Daddy Peacock's verdict… Wow they actually taste like real carrot cake.  I'm not a fan of carrot cake but these are ok!
(I believe this is probably a compliment in a round about sort of way
The only downside to these is that the flour has rice flour in it which is really not good for mine or Elodie's eczema but she is not great with gluten as it gives her horrible stomach ache.  So. in the grand scheme of things rice flour it is until an alternative arrives! (I am too lazy to fiddle around with blending flours)
I use chia seeds as an egg replacer but I don't make it into a 'flax-egg' type thing I just chuck the seeds in.  I actually really like the crunch they have and the contrast of that and the soft fluffy cake.  (yep I am one of those who likes food to have texture – I don't do mush, unless its mushy peas!!)
This recipe makes 18 cupcakes using small cupcake cases – if you use muffin cases you wont get as many…
Recipe for Carrot Cupcakes with Cream Cheese Frosting (Vegan Glutenfree)
Carrot Cupcakes with Cream Cheese Frosting (Vegan Glutenfree)
beautiful Carrot Cupcakes with Cream Cheese Frosting (Vegan Glutenfree) - one of my favourite recipes & easy too!
Ingredients
Ingredients (Cupcakes)
300

g

gluten free sr flour

I used Doves Farm

150

g

Koko

30

g

golden syrup

1

tsp

chia seeds

100

ml

Veg Oil

150

g

Granulated sugar

1

tsp

cinnamon

1/2

tsp

of bicarbonate soda

large handful of sultanas

1

medium carrot finely grated
Ingredients (Cream Cheese Frosting)
50

g

Vegan Cream Cheese like Violife or Bute Island Creamy Sheese

room temperature

50

g

Dairyfree margarine

250

g

Icing Sugar

Squeeze of lemon juice

Wafer Daisies & small sprinkles

I used waitrose primroses
Instructions
Preheat oven to 180C.

In a large bowl mix the dry ingredients (flour, bicarb, cinnamon, chia seeds & sugar) and give them a stir. Technically I think sugar counts as a wet ingredient but this is the way I make them and it works so this is the way it is done!

In a mug add the golden syrup to the Koko dairy free and heat on low for 30secs in a microwave.  You just want it warm enough for them to completely combine.  Pour this into a jug and add the oil.

Stir the wet ingredients INTO the dry and then fold in the carrots and sultanas.  The batter will be soft but not runny!

Share between the cupcake cases and bake for 15mins (longer for muffin sized cakes)
To decorate:
Beat the cream cheese & butter together.  Then sieve in the icing sugar and beat again.  Add the lemon juice and beat again!

Put in a piping bag with a star nozzle. Pipe slowly from the outside in holding the bag at 90degrees to the cake.

Sprinkle over the tiny flowers and then place the daisy over the top of the pointy bit that is left where you stop piping!

Stand back and admire!!
Pin Carrot Cupcakes with Cream Cheese Frosting (Vegan Glutenfree) for Later:
Linky Love
I am sending these over to #picknmix Fridays hosted by A Cornish Mum & Mummy and Monkeys!  Hop over and have a read there is lots of different kinds of posts linked up every week!! AND I am going to link these up to #HowtoSundays at Monkey & Mouse!  I will also add them to Recipe of the week (A Mummy Too), #YumTum (Mummy Toolbox) & #FreefromFridays over at Freefrom Farmhouse later in the week!!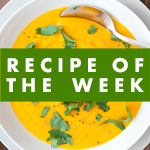 ---
---