Seasonal Recipes: Vegan Rhubarb Muffins (Dairy Free, Egg Free)
Vegan Rhubarb Muffins make a great grab & go dairy free breakfast or afternoon treat.  They are light, fluffy and packed full of oats and seeds for an extra nutritious snack.  Make several batches and freeze to use up those gorgeous gluts of garden rhubarb!
~
We LOVE rhubarb in this house, the Peachicks will eat it however it comes, although they do prefer it cooked and sweetened slightly!  These muffins  were also a perfect way to use some of the bumper crop of rhubarb we have this year and made a great pre-tennis breakfast for the Peachicks!  Technically rhubarb is a vegetable but is goes so well in both sweet and savoury dishes; although I have yet to convince this lot to let me try the latter out!
~
Over on the Pinterest page there is a vegan rhubarb recipes board full of different rhubarb recipes including a very yummy looking Rhubarb & Earl Grey Tea Loaf from Mandy over at Sneaky Veg Blog and an unusual, but must try, Rhubarb Gin recipe from Foodie Quine!  You'll find the link at the bottom of the post! And don't forget to check out our Rhubarb &Custard Crumble Scones, a nice alternative to Rhubarb crumble and custard on a hot sunny Sunday afternoon!
~
Our 'little' rhubarb has literally taken over our garden.  It was once in a pot but it would appear that the roots have gone out through the bottom and hit the clay layer in our garden!  Apparently the best part of these muffins is the crunchy top.  Its simply made by sprinkling a tiny bit of brown sugar on top of each muffin before it goes in the oven.  I spent Friday on the sofa after a particularly nasty reaction to something I can only assume was egg contamination, these were a much needed energy boost!
~
~
The rhubarb is chopped into fairy small chunks which means over the cooking time it softens nicely.  Every now and again you get a pop of a tangy little surprise all through the muffins!  Rhubarb can be quite watery when it cooks but the custard powder and chia seeds soak it up and make these muffins really lovely and soft.  Speaking of the chia seeds, I left them whole in these Vegan Rhubarb Muffins.  I really like crunchy seeds and oats as part of my breakfast and I reckon some pumpkin seeds would make a nice addition to these too!
~
Obviously the chia seeds (alongside milk & golden syrup) are the egg replacer in these Vegan Rhubarb Muffins and they will work just as well ground into  a powder and mixed with the flour!  As for the dairyfree milk, I use Koko dairyfree coconut milk as it is fairly similar in profile to cows milk.  Although Oatly, soya or rice milk would work just as well, I would add an extra tablespoon of the oil.  I have a feeling that nut milk could overpower the rhubarb but having said that I think Almond milk would work!
~
We've had a lovely relaxed weekend and as you can probably see I am trying out a different recipe plug-in.  I think I like the layout of this one slightly better but wish it was a little more colourful!  I know never happy! LOL!
~
Recipe for Vegan Rhubarb Muffins:
Vegan Rhubarb Muffins
Light & Fluffy Rhubarb Muffins, packed with oats and with a crunchy topping these are great for breakfast or afternoon snack! They are Dairyfree, Eggfree and Soyafree so vegan and great for an allergy friendly coffee & catch up. The mixture can be split into more, smaller muffins that can be frozen for a quick grab & go lunchbox for the littlies!
Servings
12
large Muffins
Ingredients
250

g

Self Raising Flour

50

g

Custard Powder

200

g

Rhubarb

chopped

1

tbsp

Whole Chia Seeds

25

g

Oats

200

g

Granulated Sugar

25

g

Golden Syrup

1

tsp

Vanilla Extract

100

ml

Dairy Free, Milk Alternative

Koko dairyfree

1

tbsp

Brown Sugar

For sprinkling on top!
Instructions
Preheat the oven to 170C (fan) and line each hole of a muffin tin with a paper case.

In a large mixing bowl, combine the flour, custard powder, chia seeds, oats and sugar. You can sieve the flour and custard powder together or just grab a whisk and give it a stir!

Then in a large jug, mix the golden syrup, vanilla extract and Koko dairyfree - the milk needs to be at room temperature or just over otherwise the syrup wont mix completely.

Once the golden syrup and vanilla are mixed into the Koko dairyfree, whisk in the vegetable oil.

Pour the wet ingredients into the dry, add the rhubarb and stir gently until there are no lumps of flour left!

Share out between each of the muffin cups, they should be about 2/3 full and sprinkle over a little brown sugar.

Bake for 30-35mins. Until a skewer comes out clean and once cooled dust with icing sugar.

Serve with a nice hot frothy coffee!
Notes
In these muffins a combination of golden syrup and chia seeds are used as an egg replacer. You can grind the chia seeds to a powder and mix with the flour and custard powder or leave the seeds whole. These muffins use Koko Dairy free coconut milk but they would work equally well with any milk dairy or otherwise, just substitute with the same quantities.
Pin Vegan Rhubarb Muffins for Later
Linky Love

:

I will add these Vegan Rhubarb Muffins to a couple of linkies over the course of the week, starting with cook blog share at Snap Happy Bakes!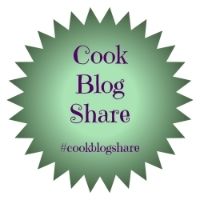 ---
---