DairyFree & Eggfree Minnie Mouse Birthday Cake – Strawberry & Lemon Pink Vegan Sponge
The Ginger Peachick's 3rd Birthday Cake was this very Pretty DairyFree & Eggfree Minnie Mouse Birthday Cake. Its a Strawberry & Lemon Vegan Sponge, coloured bright pink, filled with lemon buttercream & covered with lilac fondant & flowers.  This design is a great first fondant cake to try as the large white dots, plentiful scattering of flowers and ribbons around each tier will cover any dents or cracks completely!
Today the Ginger Peachick was 3, I can't believe it has gone so quick – she is so grown up and cheeky!  This morning we spent a good half hour in Cake Craft while Elodie chose and then changed her mind about what birthday cake she wanted!  This cake supply shop is really good, they have pretty much everything you could ever want for making and decorating all sorts of cakes.  In the end Elodie settled on a pink and white Minnie Mouse figure and bright pink cake board so I grabbed some lilac fondant and pretty little flowers as well!  You can hand colour your own fondant if you can't get Lilac, check out this Vegan Baileys Birthday Cake for instructions – (Sainsburys' & Hobby Craft both sell fondant in different colours)
We've had a pretty quiet day after the long one we spent in Nausicaa and travelling home yesterday so E has had a lot of time to enjoy playing with her birthday presents – apologies to all in Waitrose this morning who had a small child and brand new pushchair run at them!!  To be fair she got the hang of driving around everyone pretty quickly and even managed to carry the new Primrose plant I bought home in the basket of it!
Recipe for Pretty DairyFree & Eggfree Minnie Mouse Birthday Cake:
Pretty DairyFree & Eggfree Minnie Mouse Birthday Cake - Strawberry & Lemon Pink Vegan Sponge
This pretty DairyFree & Eggfree Minnie Mouse Birthday Cake is made with layers of bright pink Strawberry & Lemon Vegan Sponge. It is filled & crumb coated with a lemon buttercream & then covered with lilac fondant & flowers.
Ingredients
For the Sponges
400

g

Self Raising Flour

200

g

Caster Sugar

1

tsp

Ground Chia Seeds

1 7

g

Sachet of Bicarbonate of Soda

400

ml

Dairyfree milk

200

ml

Vegetable Oil

or Sunflower Oil

3

tbsp

Golden Syrup

Juice of 1 lemon

Pink gel food colouring
For the Decoration
2

tubs of Lemon Buttercream

Betty Crocker

1

kg

Lilac fondant

250

g

of white fondant

rolled and cut into spots using end of a piping nozzle!

Sparkly E & sparklers

Pink and white sugar flowers to decorate

These are not egg free
Instructions
Preheat Oven to 170C. Grease two shallow sandwich tins (7inch). Then grease and line 2 tall round cake tins (20cm/8inch).

In a large mixing bowl stir together the flour, sugar, bicarbonate and ground chia seeds. Make a well in the centre.

For the wet ingredients first put the golden syrup and half the milk into a microwave safe mug. Microwave on low for 10-30 seconds stirring occasionally until the golden syrup has dissolved into the milk.

Pour this mixture into a measuring jug along with the rest of the milk, lemon juice, food colouring and oil. Stir until combined.

Pour slowly into the well in the dry ingredients, stirring all the time until the batter is smooth. Fold in the freeze dried strawberries (if using)

Share the mixture out between the cake tins - 1.5 ladle fulls into each of the sandwich tins and then the rest shared equally between the tall cake tins.

Bake the cakes until a skewer comes out clean -

15-20mins (sandwich tins)

30-40mins (tall cake tins)

Leave until completely cool.

Sandwich the tall cakes together with a layer of strawberry jam and lemon buttercream. Leave in the fridge to set for an hour or two. This is the bottom tier.

While the bottom tier is in the fridge, cut 4 rings of cake out of the shallow cake layers (from sandwich tins)

I used pancake rings about 3-4inches in diameter (about the size of a pint glass) you should be able to get two complete rings out of each of the sponges. Layer these 4 cakes in the same way as the top tier. Refridgerate while you crumb coat the bottom tier.

To crumb coat each tier - Spread a thin layer of buttercream all over the top and sides of the cakes. Use a pallet knife or spatula to smooth the buttercream layer. Leave to set for at least a couple of hours - overnight is better.

While the crumb coats sets, use a small cutter or wide end of a piping nozzle to cut the spots out of white fondant.

Next fondant two tiers separately. Roll the fondant out into a circle. It should be 1/8 inch thick and the diameter of the circle should be the same as the height of the sides plus the diameter of the cake itself. Wilton have a fab video that takes you through each stage from crumb coating to fondant layer - watch it here

One your cakes are covered with fondant stick on your white spots. You can either use edible glue OR water brushed onto the fondant. Add a layer of white ribbon around the bottom of each layer and finish with a Minnie Mouse figurine and cascade of little white & pink flowers!


The little flowers contain dried egg white - Elodie wont eat them and can tolerate the tiny amount of cross contamination from the flowers. There are plenty of eggfree decorations available on the web OR alternatively all Waitrose decorations are eggfree. They have a lovely range of very pretty little flowers, butterflies etc. Alternatively you can use normal fondant and small flower shapes push cutters.

*Top Tip - if when covering the cake you end up with a few dents or cracks in the fondant just use the large dots and small flowers to cover them up!
Notes
Allergy information... The little sugar flowers have albumen in them so leave them out if you are allergic to eggs - Elodie doesn't really eat them so they are ok on her cake! Also as I was running out of time I used Betty Crocker buttercream which has no milk, egg or soya ingredients but is labelled as may contain milk.
Pin DairyFree & Eggfree Minnie Mouse Birthday Cake for Later
Linky Love
I'm linking this up to #BloggerClubUk linky over at Mudpie Fridays & The Cuddle Fairy as well as Tasty Tuesday and then #freefromfridays over at the FreefromFarmhouse later in the week!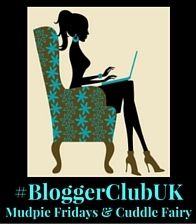 ---
---