Dairyfree Vanilla & Walnut Latte Cake
Ok so I'm about to stretch the description of this blog namely the bit about it being creating lovely recipes for the Peachicks…. This Dairyfree Vanilla & Walnut Latte Cake is most definitely more for me but I reckon I should be forgiven for including it as technically it is a peachick that necessitated the making of it!!  
If you are looking for an eggfree or vegan version of a coffee cake, you could do worse than my Coffee & Blueberry Loaf recipe or my Pretty Vegan Coffee Cupcakes !
The unhatched Peachick has finally reached the final stages of baking… 27weeks!!  In some books this is the beginning of the final trimester (not in all but we'll ignore them!).  The end is in sight and I am getting a wee bit impatient – I want to know what colour the Peachick is… Is it another pink one or will Daddy Peacock finally get some back-up in this house from a little blue Peachick??

I also would really like to be able to sit down with my long overdue me-time treat… a massive mug of hot, frothy vanilla flavoured coffee full of caffeine!  I have been missing my Jet Fuel for far too long and today I REALLY REALLY need some, I can't wait a moment longer.  

(I hope you are reading this unhatched Peachick sometime in the distant future and appreciating the unwaivering sacrifice I have made for you these last few months giving up my treat so you don't hatch stupid or with an extra head or whatever it is caffeine is supposed to do to babies in the womb!)

To distract me I decided that I should really blog, I haven't been able to do it in a while… sitting still isn't easy, standing up is getting difficult, money has been scrimped for xmas AND work has been insanely busy!  I feel like I have neglected my little corner of the blogging universe (hangs head in shame) but promise to make up for it with lots of christmas recipes over the next few weeks (christmas pud fudge, egg-free marshmallows & fruit and nut chocolate fudge).

That covered the cravings so what on earth are we celebrating??  Well I can see the end of pregnancy forever (bittersweet celebration but tbh reckon 3 times is plenty thank you!!), Daddy Peacock has an exciting new job and both the Peachicks got glowing reports at Parents Evenings!  What better way to celebrate than a massive roast chicken dinner followed by curling up on the sofa watching a family film chomping through a slice of moist, creamy cake… A big old slice of vanilla coffee & walnut cake washed down with a bucket of decaffeinated tea.  HEAVEN!

Handily Tea Time Treats challenge this month just happens to be cake of the celebratory kind.  I reckon its the sentiment behind making this cake that makes it celebratory rather than the decoration.  Its not fancy looking like the Peachicks diverse collection of past birthday cakes neither is it layered with marzipan & fondant nor has it been decorated with elaborate piping.  It is a very undersated cake for the simplest of  family celebrations!  (That and the fact I am currently cooking a giant Peachick whose football shaped house gets in the way at every opportunity.  Actually burnt the bump the other day it sticks out so far!)

So after extensive ramblings here is the recipe – 

Ingredients for Dairyfree Vanilla & Walnut Latte Cake:
6oz stork block margarine or dairy free margarine
2 eggs
6oz caster sugar
6oz Self raising flour
1tsp of vanilla extract
2tbsp of instant coffee (decaff for me) dissolved in 1tbsp of hot water
40g of walnuts chopped (sorry no idea how many ounces it was just one of those little bags!)

For the buttercream:
3 1/2oz of dairy free margarine
8oz icing sugar
1tsp vanilla extract
1tbsp decaff coffee dissolved in 1tbsp of hot water


The method is simple its a basic sponge cake one but I reckon a chuck it all in method would work too… 

Cream the butter and sugar.  Mix in the eggs followed by the vanilla extract, coffee and finally fold in the flour & walnuts (if using)!  Separate into 3 shallow cake tins and bake for 15-18mins.

When cool spread over the buttercream which is made by bunging all the ingredients EXCEPT the coffee in the mixer with beater attachment.  Slowly add the coffee until nice and soft you may not need all of it!.

Layer up the cake and sprinkle with a few more walnuts – or alternatively for proper coffee junkies like my non-pregnant self – some of those dark chocolate coffee beans!  Roll on Feb!!

The theme for this month's Tea Time Treats is Cake so I am going to enter this celebration coffee cake!  TTT is a monthly blogging event hosted by Kate (What kate baked) and this month Karen (Lavender and Lovage).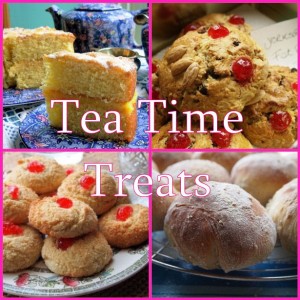 ---
---