The Ultimate Collection of Freefrom Pancakes
The Peachicks are big pancake fans and they definitely do not let food allergies stand between them and a good pancake feast.  They aren't fussy about toppings either; sweet, savoury or a mixture of the two are all devoured equally quickly!  We have teamed up with a host of other bloggers to create The Ultimate Collection of Freefrom Pancakes.  So if are catering for allergies or special diets this Shrove Tuesday then look no further because The Ultimate Collection of Freefrom Pancakes has got you covered!
There are quite a few pancakes on The Peachicks' Bakery, all of which have been tried & tested by the Peachicks.  We have pancakes a LOT in this house!  These Vegan Vanilla Pancakes are my go-to recipe, they take no time at all to mix and cook!  There are so many different toppings that just work with pancakes.  In our house a midweek usual is crushed frozen raspberries and sweet freedom choc shot, although baked beans and bacon are another favourite!
These fluffy Coconut & Lime Freefrom Pancakes are glutenfree and vegan.  They are layered with grilled pineapple slices and served dripping in ginger syrup and dollops of dairyfree yoghurt.  They were my contribution to the #FreeFromPancakes series of recipes by some fellow (& muchly talented) allergybloggers.
If you fancy having a lookie at the other fantastic recipes in the series then follow the links below!
The Peachicks and I all agreed that there was a #FreeFromPancakes recipes we LOVED a bit more than all the others it was this one…  Its from the lovely Kate over at the Glutenfree Alchemist!  She made Beetroot, Buttermilk Pancakes with 2 toppings – one sweet, one savoury; including these lovely minted pea sour cream & bacon!  They would be easy to adapt to being dairyfree using a milk alternative and eggfree with an egg replacer so these are on my list to try when the next veggie box arrives!  Her photos are always incredible…
I am also a little bit in love with the simple genius of this recipe from Vicki – 'The Free From Fairy' .  Pancakes made IN A JAR!! And here they are Genius Pancakes in a Jar!
Nathalie from The Intolerant Gourmand
 made these beautiful 
Perfect Freefrom Pancakes; completely freefrom and covered with a glossy, homemade chocolate sauce! YUM! 
Big, fat & fluffy pancakes smothered in maple syrup – what more do you need?! And these from Emma at the Free From Farmhouse are made thanks to a chia seed egg and some very lovely glutenfree flour! (photo courtesy of FreefromFarmhouse)
I do love using coconut flour.  It gives such a nice texture to the pancakes and these
C
oconut Pancakes from Cherised by Me look absolutely stunning!  Dairyfree, glutenfree and perfect for Paleo! What more could you want?! 
Reneé from Mummy Tries gave us some very lovely looking Gluten Free, Dairyfree 
Pancakes.  They are packed with all the good things our bodies can lack at this time of the year thanks to the butternut squash, cashew nuts and eggs.  These pancakes are also suitable for those following gaps, scd and paleo diets.  Jo over at Paleo Crust also posted some dairyfree, grainfree pancakes, made with almond flour and dairyfree milk!  Jo's photos are another which always look stunning…
Jo – 'Paleo Crust' – Grain Free Pancakes
When it comes to pancakes, you can't beat the classics.  Lemon & Sugar are one of those combinations that just work, no matter what mood you are in they just make you happy!  Laura from Dairyfree Kids posted these fab looking Lemon & Sugar Pancakes so hop over and have a look.  They are dairyfree using almond milk.
Bananas are always a good combo with Pancakes and these next two recipes are no exception!  First up is Mel from over at with her vegan, glutenfree and refined sugar free Banana pancakes
!  They are so pretty you have to hop over and have a lookie! Then there are t
hese lovely Gluten and Dairy Free Banana Pancakes from Kirsty at Hijacked by Twins are also grainfree, low FODMAP and Low Syn.  They are easy to make with only 4 ingredients and packed with protein and vital vitamins & minerals thanks to the eggs and bananas!
Then there are banana pancakes that just go that little bit further.  These O
at, Almond & Banana Pancakes 
from Eb at the Easy Peasy Foodie are glutenfree and vegan AND made in a blender! I love the fact that actually you could just dilute extra batter and drink it as a smoothie to go with your breakfast stack!
 Apples are another fruit that work really well in pancakes, they are a great egg replacer.  Here's my Vegan Apple & Raisin Pancake recipe which has a glutenfree option.
 But these Apple Cinnamon Freefrom Pancakes from Rebecca at Glutarama look amazing and I love the addition of cinnamon to the batter.  Apple & cinnamon are such a great combo. Served with a dollop of dairyfree icecream – Perfect!
Rebecca – 'Glutarama' – Apple Cinnamon Pancakes
Pin The Ultimate Collection of Freefrom Pancakes for Later:
Linky Love:
I do love a linky so I will be adding The Ultimate Collection of Freefrom Pancakes to a few over the week!  Including FoodieFriday with sparklymummy & Mummy in a Tutu AND Sunday Fitness & Food hosted by Angela (marathons & Motivation) & Ilka (Ilka's blog)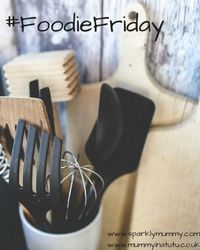 ---
---