#FreeFromValentine: Creamy Vegan Tiramisu Dessert (Dairyfree Eggfree Glutenfree)
February is here & the FreeFromGang have been busy creating your perfect #FreeFromValentine Day Menu.  My contribution is this Creamy Vegan Tiramisu Dessert. Espresso soaked sponge topped with rich, dark chocolate ganache and a light, cocoa infused cream.  Packed full of the authentic flavours you want minus the allergens you don't! (#Top14free #Dairyfree, #Eggfree, #Glutenfree & #Soyfree)
Who knew a dessert could cause such heated debate? One layer or more? Chocolate custard or ganache or not between the sponge and cream? And lets not even talk about whether the 'cream' should be flavoured with cocoa or not…  At one point I honestly thought this recipe would never happen for fear of being banned from Italy!  So in the interests of continuing peaceful international relations with Italy and so we can one day finally take Millie our little pizza & pasta addict there – I sincerely apologise for any offence caused by tinkering with your beautiful dessert.
But, in my defence…
I've had allergies to things my whole life. Slowly I've been forced to completely stop eating more and more foods… Dairy, eggs, celery, peanuts, chickpeas, some fruits etc etc. The list gets longer and generally I'm not too fussed but there is a couple of things I sometimes REALLY miss. One of which is peanut butter (sigh), the other is Tiramisu.  Back in the day when I could eat some dairy I used to LOVE this glorious celebration of coffee and cocoa. But I haven't been able to eat one for years.
Until today…. I give you my completely freefrom take on a tiramisu* – my Creamy Vegan Tiramisu Dessert & I promise it doesn't disappoint!  It actually benefits from sitting overnight before serving; the perfect make ahead end to a romantic dinner for two this Valentine's Day – serve in individual shot glasses or a large one with two spoons!
*If I call it a tiramisu-ish dessert do you think Italy will forgive me?!
The traditional dessert uses mascarpone cheese and eggs for the soft creamy layer.  Mine uses a dairyfree cream cheese and coconut cream mixture, with grated chocolate and a small amount of ground chia to set it slightly.  At this point there will be some of you cursing me for putting chocolate in this creamy cheese layer.  And whilst I understand the cursing, I promise there is a good reason for it.
Daddy Peacock.
Yep, its all his fault! He doesn't like cream cheese. At all. Of any kind.  Unless you disguise the taste of it.  Now there are two ways to do this. The first is to add some good old alcohol (amaretto, marsala, whisky) however, my immune system is not a great fan at the moment so instead I have opted for about a tablespoon each of grated chocolate and cocoa powder.
In my version, the biscotti savoiardi (Trifle sponges or Ladyfinger biscuits to you & me) are replaced with a coffee flavoured glutenfree sponge.  This can be baked on a large shallow cookie sheet and then cut to size afterwards or piped into fingers before baking on a low heat to create a slightly drier texture to the sponge.  And if you want a really dry sponge, switch off the oven and leave them in as it cools down.
Sadly those sponge fingers conjure up horrific memories of that soggy, jellified mass of dairy and tinned fruit that is a trifle!  But for those of you not traumatised by them there are plenty of glutenfree, vegan Ladyfinger recipes around on Pinterest.
I know its my recipe but honestly this has to be one of the best I've made.
It must be – not only did everyone literally lick their glasses clean but I'm seriously contemplating sneaking into the kitchen to eat the last one while I sit here at 3am typing.  I mean I realise the convention is to sleep at this time but with Elodie not well and refusing to be anywhere but our bed its not really happening!
To get the real flavour of coffee you have to use espresso to soak the sponges, definitely no room for instant here!  I used one large shot for all the sponges and to be honest I don't think it was enough. Now there is a chance this is because I LOVE coffee and drink it strong – or 'Jet Fuel' as The Peachicks call it!    So for me it probably could've done with having more poured over the top once in the glasses.
Recipe for Creamy Vegan Tiramisu Dessert
This recipe will make 4-6 large desserts, depending on how large your servings are.  Alternatively you can make numerous little ones in shot glasses, I would imagine around 10-12.  I managed two large glasses, three small and had enough left over to make one in a plastic tub for the freezer.   This would also make one large round tiramisu with one layer.  For more layers just double the quantities of cream & ganache.  The quantity of sponge is far more than you need.  Mainly because I wanted to make little hearts to go with it!  I have to admit there was loads of sponge left over – But don't worry its been blitzed in a food processor and is now sat in the freezer waiting with some multicoloured buttercream, waiting to be turned into unicorn cake pops!
Creamy Vegan Tiramisu Dessert
A beautiful Creamy Vegan Tiramisu Dessert with thick layers of Espresso soaked sponge, rich, dark chocolate ganache and a light, cocoa infused cream. Packed full of the traditional flavours you want minus the allergens you don't! It actually benefits from sitting overnight before serving; the perfect make ahead end to a romantic dinner for two or party for more! (Top14free Dairyfree, Eggfree, Glutenfree & Soyfree)
Servings
4
Large Servings
Ingredients
Instructions
For the Coffee Sponge
Line a shallow baking sheet with greaseproof paper and preheat oven to 150C (fan).

In a large mixing bowl whisk together the oil, sugar and golden syrup. Pour in the liquid and continue to whisk until the golden syrup has dissolved completely.

Weigh out the flours into a separate bowl and stir in the ground chia until combined. Fold into the liquid ingredients.

Smooth out onto the lined baking sheet and cook for around 20minutes, until golden brown on top.

Cut while warm and then set aside to cool. For a drier sponge return to the oven as it cools after switching off.
For the Chocolate Ganache
While the cake bakes, warm 100ml of coconut milk in a saucepan over a low heat. Break the chocolate into a bowl and pour over the coconut milk. Stir until the chocolate has melted and set aside to cool for about 20minutes.
For the Cocoa Cream
Whisk the cream cheese and coconut milk together with an electric mixer until it starts to combine. At this point sift in the cocoa powder, add the ground chia and beat until light and fluffy. Spoon into a piping bag.
For the Tiramisu
The assembly is the same for small, individual or large desserts. Start by dipping the sponge into the Espresso. Lay at the bottom of your serving dishes or glass and spoon over a small amount of the coffee.

Next pipe or spoon on a layer of the chocolate ganache and place in the fridge while you repeat with the other glasses. This will allow the ganache to set slightly in the glass and give you more distinct layers.

Pipe over the final layer - the cocoa cream. Smooth the top & dust with cocoa powder and a generous sprinkle of grated chocolate. Leave in the fridge until serving.
Notes
A note on cooking times:
For more defined layers you can leave the ganache to set before piping the cocoa cream on top.  This will take a couple of hours but you can leave overnight.
Pin Creamy Vegan Tiramisu Dessert for Later:
More #FreeFromValentine Recipes…
February is here & the FreeFromGang have been busy creating your perfect #FreeFromValentine Day Menu…  I will add links to everyone's as the appear so keep hopping back for more delicious Valentine Treats!
Linky Love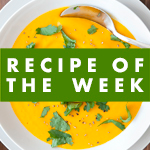 I am also sharing this at the link party Fiesta Friday, which is hosted by  Monika @ Everyday Healthy Recipes and Laurena @ Life Diet Health.
---
---