Vegan Raspberry & Pomegranate Cheesecake (Soyfree)
This Vegan Raspberry & Pomegranate Cheesecake is really lovely, the raspberry and pomegranate toppings work really well with the passionfruit in the yoghurt/cream cheese filling.  Use Glutenfree biscuits for the base for a completely Top14 free dessert!  Cheesecake has to be one of my favourite puddings, but obviously with an egg and dairy allergy is something that I have been wanting to find a suitable alternative for, for a while. Being able to find a suitable dairyfree cream cheese has been difficult as we also have soya allergy to contend with (Apparently Tesco & Bute Island are nice soya cream cheeses).
Thankfully our local Asda has started stocking both Koko dairyfree yoghurts and Violife Cream Cheese and I have been meaning to try out a recipe with them when I saw a really lovely looking Lime & White Chocolate Cheesecake from Kirsty over at Hijacked with Twins.  I adapted the quantities in the recipe slightly as the Koko Yoghurt is obviously a bit runnier than Mascarpone but oh my goodness that is an amazing cheesecake!  I had never thought of using coconut oil for the biscuit base but it works really nicely with the ginger nut biscuits and added Vitalite just gives the base a richer flavour!
For this I have used a mix of ginger nut biscuits (McVities) and digestives (Sainsburys own).  These don't contain milk products, there is no allergy advice that they are not suitable for those with milk allergies BUT obviously there are a range of freefrom alternatives around which are also gluten free.
So the base is quite thick compared to the topping but that is personal choice, if you wanted a bigger filling to topping ratio then you can use less of the base and make a bigger quantity of the filling!  The raspberries and pomegranate seeds look so pretty with just a sprinkling of grated dark chocolate but for a more wintery occasion some icing sugar dusted over the top would be just as lovely!  I have added raspberry powder into the mixture to just give a little more colour, you could use food colouring or just leave it out altogether!
The chocolate shapes on top are really easy to make, just melt some dark chocolate and then pipe whatever shapes you want – these are wiggly tree shapes but you can do swirls or animals/letters/flowers if you are a lot more artistic than me!  The chocolate is 95% Cocoa but as with most dark chocolates check the ingredients as the often say may contain milk and/or soya… so if this is not suitable for you then Moo Free Chocolates make a good alternative to use!
Note to self… leave it a bit longer to set before taking a slice out!  Amazing what you can hide with extra raspberries!
Recipe:
Vegan Raspberry & Pomegranate Cheesecake
This beautiful allergy friendly cheesecake tastes just as good as it looks! It is vegan, Dairyfree, Eggfree, Soyafree and by swapping out the biscuits for freefrom alternatives it becomes Glutenfree too. The basic filling is really versatile and can be flavoured with whatever fruits are available but this raspberry & pomegranate version is really lovely and perfect for the summer!
Instructions
Line the bottom and sides of a 7 inch loose bottom cake tin with bake-o-glide or greaseproof paper.

In a food processor add the ginger nut biscuits, digestives and blitz to crumbs. Pour in the melted coconut oil/Vitalite mixture and pulse until the crumbs are coated.

Put in the cake tin and press down with the back of a spoon. You can refrigerate for an hour or two until set before adding the topping but its not really necessary!

In a separate bowl whisk the Koko yoghurt, Violife cream cheese and vanilla extract together until light and fluffy. Add the icing sugar & raspberry powder and whisk again before stirring in the passionfruit pulp.

Spread over the biscuit base and decorate with the raspberries, pomegranate seeds and chocolate curls. Then just store in the fridge until you want to serve it!
Linky Love:-
I am going to add this to a few linky's this week including #HowtoSundays over at Monkey & Mouse as well as #FreefromFridays later in the week!  I have also linked this to #cookblogshare this month hosted by SnapHappyBakes!  This month's Tea Time Treats theme is COLOURFUL and I love the colour of the raspberries on top of the golden base!  This linky party is hosted over at Lavender & Lovage and The Hedgecombers!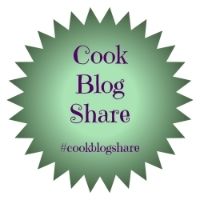 ---
---