Freefrom Chicken Goujons (Top 14 Free)
These Homemade Freefrom Chicken Goujons are really yummy.  They are easy to make using fresh chicken mini fillets and even contain hidden veg in the breadcrumb coating!  Can be served warm or cold as an allergy friendly lunchbox filler!
These are great for playdates and birthday parties too as they are easily made completely free from the Top14 allergens.  Although it does depend on which bread/breadcrumbs you use!  I use our homemade bread which is made with half wholemeal/half white wheat flour.
**Tesco make Freefrom breadcrumbs that look good are freefrom dairy, soy & gluten although they have a may contain warning for eggs and mustard**
The flavourings in the breadcrumbs can be changed according to what you have in your cupboard, but this combination of fresh sage, red onion and garlic powder works really well.  They definitely got the Peachicks seal of approval as they didn't last very long (once Elodie had stopped prodding it as apparently it didn't look like chicken!)
You have to make sure the dish is greased with a little oil and that the goujons are spread out so that they go nice and crispy! Lets face it noone likes a soggy chicken nugget!!
These were great after a day running around the zoo trying to get a photo of all the baby tigers but sadly there was just a throng of photographers with large cameras and tiny manners in the way! I mean I understand that it would be good to get a photo of them but standing so little kids can't see is a bit much!
Anyway I did get a lovely picture of one little ginger animal, found lurking in the lavender garden outside Marwell House!
Recipe for Freefrom Chicken Goujons:
FreeFrom Chicken Goujons
These Homemade Freefrom Chicken Goujons are really yummy, thanks to a crunchy sage & red onion breadcrumbs. They are easy to make using fresh chicken mini fillets and unlike most breadcrumb coated foods contain no egg or dairy and even have hidden veg in the coating! Can be served warm or cold as an allergy friendly lunchbox filler! They can be easily adapted to be Freefrom the Top14 allergens by simply changing the bread you use.
Ingredients
350

g

Mini Chicken Fillets

or chicken breasts cut into strips

Half

Lemon (Juice)
For the Breadcrumbs:
100

g

Stale Bread

OR ready made breadcrumbs*

1

tbsp

Fresh Sage Leaves

about 8 large leaves

1

tbsp

Fresh Chives

about a Peachick handful

1/4

Red Onion

1

tbsp

Garlic Granules

1

tbsp

Olive Oil
Instructions
Preheat the oven to 180C and grease a large pyrex rectangular dish (lasagne pan).

Open the chicken and squeeze over the juice of half a lemon, return to the fridge while you prepare everything else! This step gives the chicken a delicate lemon flavour and also helps the coating to stick.

Cut the bread into large chunks. Place in a food processor with the onion and pulse until it becomes fairly large breadcrumbs.

Add in the sage, chives, garlic powder and pulse again until chopped into fine pieces and evenly distributed throughout breadcrumbs. With the food processor running on fairly high, pour in the olive oil.

Next set up your 'coating station'. You will need a plate of flour, plate of milk and bowl of breadcrumbs, each big enough for the minifillets to fit in. I use old shallow cake tins that are kept specifically for this purpose!

Dunk each mini fillet, first into the flour, then milk and finally into the breadcrumbs. Completely coat the fillets with breadcrumbs, pressing them into the surface of the chicken to help them stick!

Put in a large rectangular pyrex dish, in a single layer. Make sure you spread them out so that the coating goes nice and crispy. Bake in the middle of a 180C oven for around 25mins until the chicken is cooked through. (These need watching from 20mins as depending on the thickness of the breadcrumbs they can start to catch at the edges!)

Serve with a lightly dressed salad, crunchy tomato & onion salsa and some buttered (dairyfree) sweetcorn!
Notes
*If using ready made breadcrumbs, you wont need a food processor (although it makes chopping the onion easier!) just finely chop the herbs & onion and stir all 'breadcrumb' ingredients together in a bowl.   **Recipe & Photo Copyright The Peachicks Bakery**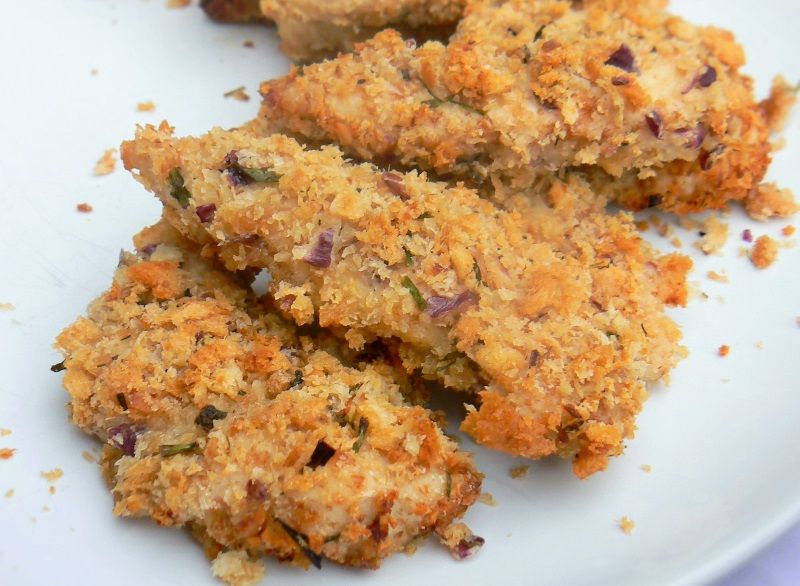 Pin for Later:-
Here's a pinnable image for you to save to Pinterest!
[pin_widget url="https://uk.pinterest.com/pin/332281278740244273/"]
Linky Love:-
I will be adding these to #CookBlogShare over at Hijacked by Twins, #FreefromFridays at the FreeFromFarmhouse AND recipe of the week at A Mummy Too!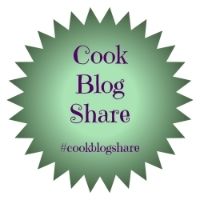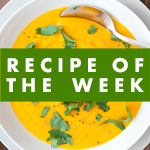 http://www.marathonsandmotivation.com/">

---
---