Millie's Marvellous Minestrone with Dolmio
Need a speedy midweek meal, using store cupboard essentials that is full of veggies that the little people will love too? Then look no further because my Millie has the perfect recipe for you.  I give you Millie's Marvellous Minestrone; It is Vegan and easy to make Glutenfree too, just swap the pasta. Served with crunchy Parmesan crusted Veggie Dunkers or chicken goujons this is sure to become a regular favourite on your midweek menu!  Jar to table in no time at all, leaving time free for all that last minute homework the Peachicks suddenly remember needs to be done!  Full of aubergines, mushrooms and a great way to use up all those leftover broken pasta pieces. AND with added dairyfree milk its a great way of getting vitamins as well as calcium into the little people!
"This post is an entry for the #Dolmio #ThankGoodness Challenge, sponsored by Dolmio.www.dolmio.co.uk/thankgoodness."
When we were challenged to create a speedy mid-week meal using a jar of Dolmio Bolognese Original Sauce I knew it had to be this recipe. Millie's Marvellous Minestrone* is a family favourite and a great way of using up a bumper crop of tomatoes,  BUT to make it just the way the girls like it, it has to be left in the slow cooker all day.  With the Dolmio Sauce there really is no need.  The smell as you open the jar is just like lifting the lid off the slow cooker. (The thought of which is now making me hungry!)
*I wouldn't say the Peachicks are fussy about food but they will only eat very thick chunky soups.  For a thinner consistency just double the added dairyfree milk.  This soup fed the 5 of us, very large portions, with no leftovers
As a busy working mum, cooking for a family with mulitple allergies can often be quite tricky. The normal shortcuts liked jars of sauces are not usually open to us due to the milk, egg or other ingredients.  I usually make everything from scratch which takes AGES – so I am always on the lookout for anything that will save a little time but still be safe for me & the Peachicks.  This Dolmio Sauce contains only tomatoes, puree, onion, sunflower oil, garlic, herbs, cornflour, seasoning and a squeeze of lemon juice, making it suitable for a lot of different allergies.
We are really lucky that because of their allergies, the girls have really good appetites.  They will eat most things that are safe for them and are really adventurous at trying new foods.  This soup is a great way to introduce new vegetables and for the fussiest little people can be blitzed* using a stick blender.  You can also add some meat if you want, crispy bacon would work really well sprinkled over the top!
*Just cook the pasta bits separately and add extra water or dairyfree milk until the soup is at the right consistency.
The crusted Courgette and Aubergine sticks were made with vegan parmesan for me and the Peachicks (available in Tesco).  The recipe works just as well with cows milk parmesan. You can swap the veggies for chicken breast sticks, either using the same method or my Top 14 free Chicken Goujons would be yummy.  They are a great addition to the soup and lots of fun to dunk too!  Well they must have been good – the Peachicks DO NOT eat aubergine but there was none of these left!
Recipe for Millie's Marvellous Minestrone
Millie's Marvellous Minestrone with Parmesan Crusted Aubergine & Courgette Sticks
Need a speedy midweek meal, full of veg that the little people will love? Look no further - I give you Millie's Marvellous Minestrone with Parmesan Crusted Aubergine & Courgette Sticks! Vegan & Glutenfree!
Ingredients
For the Minestrone
500

g

Jar Dolmio Original Bolognaise Sauce

1

tsp

Olive Oil

1

onion

6

mushrooms

1

Courgette (Zucchini)

Half Aubergine

1

Sweet Pepper

2

small carrots (or 1 large one)

250

ml

Water

(use the empty jar!)

250

ml

Dairy Free, Milk Alternative

25

g

Spaghetti

broken into little pieces
For the Veggie Dunkers
1/2

cup

Dairyfree milk

(Koko)

1/4

cup

Plain Flour

(Freefrom Fairy GlutenFree)

1

tbsp

Vegan Parmesan

dairy or vegan

1

Aubergine

cut into thick sticks

1

Courgette (Zucchini)

cut into thick sticks

Extra parmesan for sprinkling!

1

tsp

English or Wholegrain Mustard
Instructions
Start with the Veg Dunkers, you can then make the soup and sneak a cup of tea while they bake!
For the Veggie Dunkers
Preheat the oven to 180C and prepare the veggies. Slice the courgette and aubergines into large sticks.

Set up the Dunking Station - one tray of flour and parmesan mixed together. One tray with the koko milk and mustard.

Dunk the veg sticks into the flour, then the milk mix and then back into the flour.

Spread out across a large greased baking tray (quick spray with cooking spray will do!)

Bake for 40mins, until the veggie dunkers are soft inside and crunchy on the outside!
For the Minestrone
Prep the veggies for the soup, I left them nice and chunky as the Peachicks like them a little crunchy. Well except the onion, that I finely sliced!

In a large saucepan, gently saute the onions and mushrooms in the olive oil for a couple of minutes. Add the courgette, aubergine, pepper and carrots. Pour in the sauce, water and dairyfree milk.

Simmer for 10minutes before adding the pasta pieces. Simmer for another few minutes until the pasta is cooked.

Serve hot in big bowls with a large pile of Veggie Dunkers or chicken goujons and watch the kids demolish them!
Other Recipe Suggestions:
We were sent a whole load of goodies to experiment with.  Obviously we also made a spaghetti bolognese too – well it would be rude not to considering how much of it in a year Millie eats!  However this Minnestrone was definitely a winner – 5 clean bowls and a recipe that got the Peachicks to eat aubergines without bribery!
Our bolognaise was divine, sadly the kitchen lights have done it no justice at all.  However had I even suggested to the Peachicks I was going to take proper photos of it in the conservatory, nicely staged, in the right light… well lets just say Mutiny on the Bounty springs to mind!
The Peachicks had a very long list of all the recipes they now want to try with this beautiful sauce here are some of their suggestions:
That bacon chicken thing Daddy likes (Hunter's Chicken) – Grease a pyrex dish and spread the chicken breasts around.  Pour over the Dolmio Sauce.  Lay a piece of bacon or thin slice of aubergine on each and sprinkle with cheese (dairy or vegan). Bake in the oven for 35-40mins until the chicken is cooked through and the cheese has melted!
Those messy burgers Mummy makes (Sloppy Joes) – Make the Bolognaise as per the recipe on the jar, swapping the mince for chunks of mushrooms for a vegan options.  Add lots of finely diced veggies and a couple of frozen spinach cubes.  Scoop into a soft burger roll filled with a layer of shredded lettuce and top with fried onions and cheese (dairy or vegan), relish or for Daddy Peacock some ground dried chilli flakes.
NACHOS!!! – finely dice some veggies and saute for a few minutes, pour in the sauce and simmer for 8 mins until the veggies are an acceptable texture for the little people.  Pour over a plate of tortilla chips, sprinkle with some vegan (or dairy) cheese and place under a hot grill for a couple of minutes.  Decorate with sour cream (Tesco's do a nice freefrom one) and chunky salsa.
Pizza – This sauce would make a great pizza topping. Just spread all over your favourite pizza base and decorate with a load of veggies, mushrooms and extra basil before cooking.
Ratatouille!!! Find my recipe here.
The verdict
At £1.79 for a 500g jar or £2.60 for 750g jar these are good value and although more expensive than a tin of chopped tomatoes definitely a lot cheaper than a take away!  They are currently on offer (March 2017) in Tesco's the 500g jars are 2 for £3 and the larger jars are half price.  There are also other sauces in the range that are Peachick safe and contain no dairy, egg, or soy.  These include the red lasagne sauce, the smooth & light version of the bolognaise sauce and the Onion & Garlic sauce.
The Peachicks:
'YUMMY, YUMMY, YUMMY, YUMMY.  So yummy I could eat it forever!' – Millie, resident Italian food expert.
'Yummy, quite sweet and tomatoey. I want to eat it all over again!' – Alys, 9, eats everything.
Elodie just grinned.  A very messy, tomato covered grin!
Daddy Peacock: 'I was quite impressed, it tasted really fresh and not at all processed like some other jar sauces do!'
Me: Definitely be adding this to our monthly shop from now on as a great time saver!  Its full of veggies, smells amazing and my lungs do not object to it like they do a lot of other things in jars so whats not to love!
Pin Millie's Marvellous Minestrone (#ThankGoodness #Dolmio Challenge) for Later:
This is a sponsored post in collaboration with Dolmio.  The ingredients were provided by Dolmio and delivered by Tesco but all opinions are The Peachicks' own – trust me there is no changing the mind of a Ginger Peachick or a Millie if there is Italian Food involved!
Download The Peachicks' Bakery Media Kit.
Linky Love: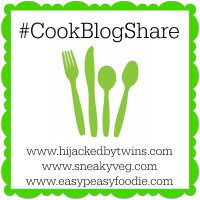 ---
---