Sage & Onion Yorkshire Puddings (Dairy free)
It doesn't matter if its a meat or vegetarian, every roast dinner needs golden crispy Yorkshire Puddings.  These Dairyfree Sage and Onion Yorkshire puddings fit the bill perfectly!  These particular ones are filled with Daddy Peacock's rich & creamy (dairyfree) onion sauce as well as some beautiful British roast pork and topped with my homemade apple sauce.  Its British Food Fortnight and these Yorkies & their British Pork filling are a perfect celebration!
In our house, the kitchen is generally mine.  I do 90% of the cooking but there is one thing that I am most definitely NOT allowed to cook.  One thing that Daddy Peacock's talent at cooking is so immense I am not even allowed in the kitchen while he is making.  And that is Yorkshire Puddings.  Yep Daddy Peacock is the Yorkie King.  I have literally no idea how he manages it but everytime they come out crispy, light and just massive!  I have manged to master the art of yorkshire pudding biscuits – flat & soggy and just generally the total opposite of what a good Yorkie should look like!
These little lovelies are flavoured with fresh sage and garlic granules and are just AMAZING with roast pork.  They are made with Koko Dairyfree milk but they work just as well with cows milk.   Elodie is still not great with eggs and I don't have the best relationship with them but a reliable vegan Yorkie recipe still escapes me.  We have the added problem of not being able to use chickpea aquafaba which I have seen in some great looking recipes.  So sadly for Elodie she couldn't eat them and I only had a very small bit.
Here are Daddy Peacock's top tips for the perfect Yorkies:
The oil needs to be REALLY REALLY hot before you pour the batter in
Use the same VOLUME (not weight) of each ingredient.
Whisk the batter like your life depends on it!!
***4. Don't let me anywhere near the kitchen in case I jinx them!***
Well the last one seems a bit rude!
They are so pretty and lets be honest any excuse for using fresh sage out of the garden is good with me!
Recipe for Sage & Onion Yorkshire Puddings:
Sage & Onion Yorkshire Puddings (Dairyfree)
Daddy Peacock's light, crispy Sage and Onion Yorkshire Puddings, the perfect accompaniment to a Sunday Roast Pork dinner! These are also great little handheld canapes for informal parties, especially when filled with Daddy Peacock's other speciality - onion sauce, roast pork and topped with apple sauce!
Servings
6
Large Yorkshires
Ingredients
2

Large

Eggs

100(ish)

ml

Dairy Free Milk

(Up to the same volume as the eggs)

Plain Flour

(Fill up to same volume as the eggs)

1/4

tsp

Ground Black Pepper

1/4

tsp

Garlic Granules

6

Sage Leaves

Finely shredded

Pinch

Salt

Vegetable Oil
Instructions
Preheat the oven to 220C. Put enough Oil in each hole of a 6 hold muffin tin to cover the bottom and put in the oven to heat the oil up. You need to leave it in for at least 15mins until it is really hot and smoking.

In a measuring jug crack the eggs, then pour in the same volume of milk. 2 eggs is around 100ml so it works out about 100ml of milk but you will need to adjust accordingly! Add the salt, pour into a mixing bowl and whisk until light and bubbly.

Next add the garlic granules, black pepper and finely shredded sage leaves to the measuring jug and add flour up to the same level as the eggs came to - about 100ml of flour. Stir together.

In another bowl add the flour and make a well in the centre. Slowly add the egg/milk mixture and whisk until smooth and really bubbly! Leave to rest for about 20mins.

Pour into the hot muffin tin oil - make sure each hole is at least 2/3 full - and put back into the oven for 35-40mins until the Yorkies are brown and crispy! DO NOT open the oven until at least 35mins have passed otherwise they will sink!

Fill with a layer of onion sauce, then folds of roast meat and top with some very yummy apple sauce!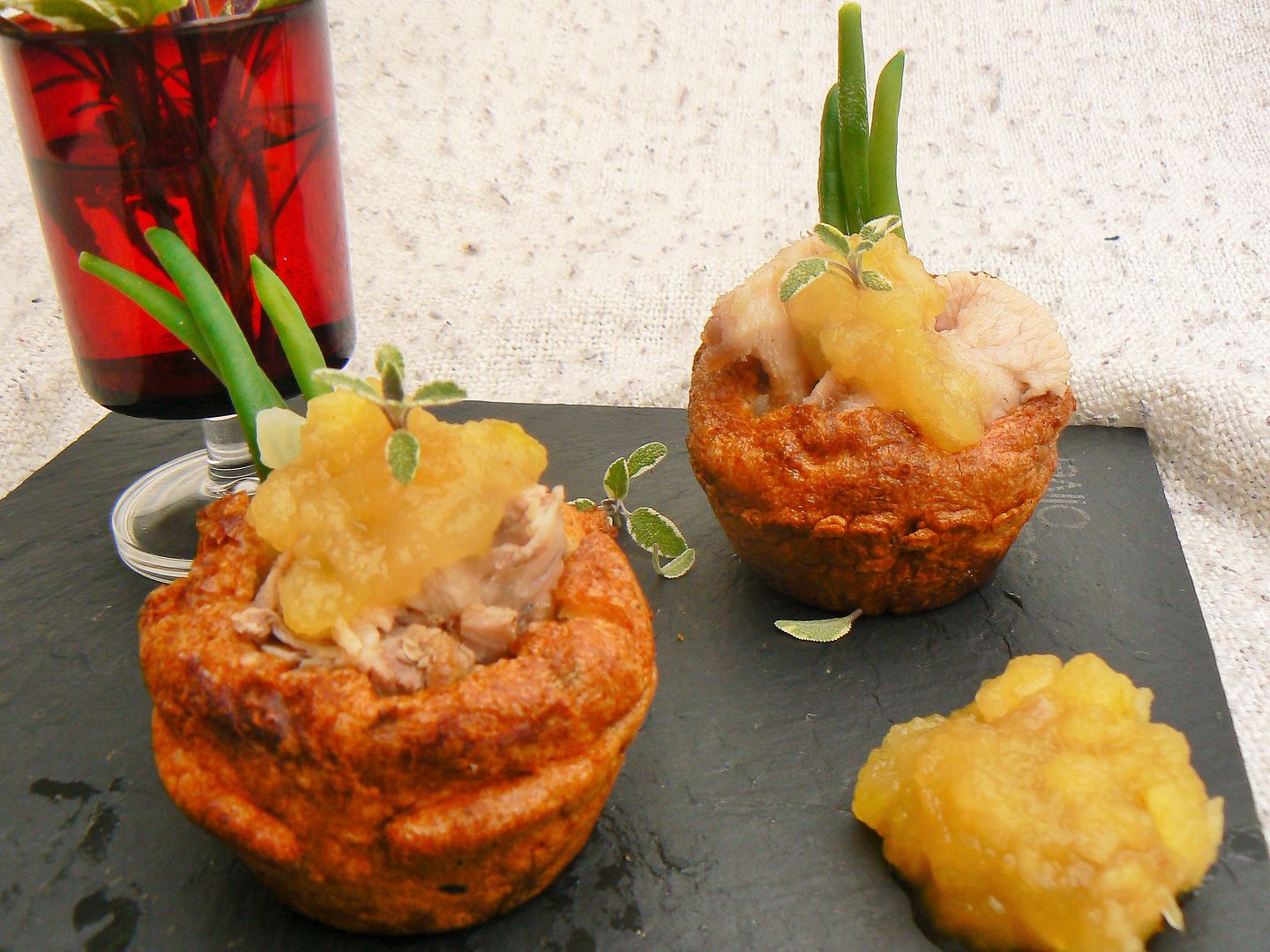 Linky Love:
Because these are so pretty I am going to add these to a few linkies!
These Yorkshire puddings and the beautiful British produce (apples, sage & pork) are a great celebration of British Food so I am adding these to #TheFoodCalendar over at Charlotte's Lively Kitchen for the British Food Fortnight which runs from 17th September.
http://www.marathonsandmotivation.com/">

Pin for Later:
---
---