Slow cooker Rosemary & Garlic Lamb Breast
This Slow Cooker Rosemary & Garlic Lamb Breast takes a cheap cut of meat and turns in into an easy, elegant midweek feast for the whole family!  Stuffed with red onion, garlic and fresh rosemary, rolled and then roasted on a bed of seasonal root veggie in a slow cooker for around 6hours.  It will serve 4 big people or 2 big and 3 smaller Peachicks when served with lots of lovely fresh veggies.  And don't forget the gravy! Dairy free, Egg free, Gluten free 
~
This recipe uses some of the beautiful seasonal vegetables that around at this time of year, herbs out the garden and rolled lamb breast.  It would also be beautiful with fresh mint or for something a little different why not try rubbing Indian spices or ras el Hanout on the inside of the lamb before rolling?!
~
~
This is a very cheap cut of meat and is quite tough and fatty so needs to be slow cooked on a low heat for the best part of a day.    We get our cheaper cuts of meat from our local butcher – it means we can buy really good quality meat without going bankrupt!  Also because its quite a rice fatty cut you only need a small portion of it per person!
It usually comes tied up with string, I like to unroll it season the meat and add garlic and whatever fresh herbs we have in the garden and roll it back up again – I use wooden skewers (you can use the wooden sprigs of the rosemary) as apparently it makes every slice look like 'unicorn snails!'  You have to love the imagination that these Peachicks have!
~
~
I love Autumn and there is nothing better than a day out stomping around in the woods in the Autumn sunshine and coming home to a hot comforting meal.  During the few precious weeks between the end of the worst part of pollen season and highest mould spore levels we like to get the girls out and about as much as possible without all the sneezing and piriton!  On days like that we fill the slow cooker and go out – its so much easier to persuade freezing cold Peachicks to come home if they know there is something hot and yummy waiting for them!
Here are some photos of the Peachicks stomping around in some nearby woodland – its amazing how long a stick, some fallen logs and a few tree stumps will keep little people occupied!
Pin Slow Cooker Rosemary & Garlic Lamb Breast for Later:
Recipe for Slow Cooker Rosemary & Garlic Lamb Breast
Slow Cooker Rosemary & Garlic Lamb Breast
This Slow Cooker Rosemary & Garlic Lamb Breast takes a cheap cut of meat and turns in into an easy, elegant midweek feast for the whole family! Stuffed with red onion, garlic and fresh rosemary, rolled and then roasted on a bed of seasonal root veggie in a slow cooker for around 6hours. It will serve 4 big people or 2 big and 3 smaller Peachicks when served with lots of lovely fresh veggies. And don't forget the gravy!
Ingredients
1

Rolled Lamb Breast

3

Cloves

Garlic

(Sliced)

3

Sprigs of rosemary

8

Small potatoes

skins on

A few Carrots and/or Parsnips

100

ml

Hot Water

1

tbsp

Raspberry Vinegar

1

tbsp

Honey

Salt & Black Pepper

2

tbsp

Green Olives

(from a jar!)
Instructions
Set Slow Cooker to High. Next c

hop the potatoes and parsnips into thirds and pile into the bottom of the slow cooker bowl. Add the Olives and pour in the boiling water.

Now for the meat. First snip the strings and unroll the lamb breast. Lay it out on a clean board with the inside of the roll facing up and pat dry. Season the meat with salt (optional) and black pepper. Scatter over the garlic slices and chopped rosemary leaves.*

Roll the lamb breast back up tightly and hold together with some wooden skewers. Mind your fingers!

Rest the lamb on top of the veggies and cook for about 6-8 hours on low heat.

Optional variation – At the end of the cooking time you could take all the veggies and meat out and put in a roasting dish on 180C for 30mins just to finish them off.

I skim the fat off the top of the gravy stock in the bottom of the slow cooker and then add it to a saucepan. At this point you can use a cornflour slurry for glutenfree gravy (1tbsp cornflour and some cold water mixed together) or appropriate gravy granules like Bisto best (dairy free but do contain soya lecithin)

Slice and serve with some fresh veggies (these are Peachick homegrown runner beans!!)
Notes
*You can also make a paste in the food processor out of the garlic, rosemary, red wine vinegar, honey and some olive oil.  OR add a sprinkle of garlic powder and some finely sliced red onion.  Mint sauce also works well - as does herby breadcrumbs - actually anything you fancy really.
I am entering this recipe into this months' Tea Time Treats (the theme is One pot teatime suppers) hosted by Janie from Hedgecomers & Karen from Lavender and Lovage as well as 'Free From Fridays' over at the Free From Farmhouse, each week there are some amazing recipes all free from and all really tasty!!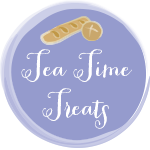 ---
---