Ratatouille (Glutenfree Eggfree Dairyfree Vegan) – The Peachick Approved Recipe!
Ratatouille (Glutenfree Eggfree Dairyfree Vegan) – The Peachick Approved Recipe!  The dish not the Peachicks' favourite movie, is essentially a French dish of stewed veggies, the exact origins and traditional recipe* of which are subject to much discussion.  Do you cook the veg separately? together? in the oven? on the hob? chunks? Slices? To be honest the Peachicks are not fussed about any of this – if it looks pretty but has aubergine in it I may as well stick it straight on the compost heap!   It is really easy to make and the recipe in this house changes depending on which veggies came in the veggie box or ready in the garden and which herbs are currently growing (although whether it then still can be called Ratatouille who knows!)  You could probably add beans too, I don't apparently that's worse than aubergine.
*If you are interested in any of the various differences between recipes this is quite a good article from the Guardian.  
So this is the Peachick Approved Recipe for ratatouille, although I should say none of them eat all of it – each Peachick eats the bits she likes, saving the one she doesn't and then once they have all finished they swap bowls with whoever has something left they like.  Odd children.  I serve it with boiled new potatoes and either minty green beans or salad.  Daddy Peacock likes his with bread to dunk in the sauce.
This amount usually does all 5 of us plus some for DP's lunch the next day
Ingredients

1tbsp Olive Oil
3 gloves of garlic
1 large white onion
1 red onion
3 courgettes
1 large yellow pepper OR 3 small sweetbite peppers
5 chestnut mushrooms (quartered)
1 jar of passata
Cooking Method:
Ok so finely slice the onions and the garlic and cut the rest of the vegetables into bitesize or larger chunks.
Then you can either put everything in the slow cooker on low for about 4 or 5 hours
OR…
In a large casserole pan put a tbsp Olive Oil, the sliced onions and garlic.  Saute over a low heat until the onions are soft and see-through.
Then add the rest of the vegetables and fry until soft stirring every so often so it doesn't stick.
Pour in a jar of passata then half fill the jar with water and pour that in too!  We then add a sprig of rosemary (and/or thyme) out of the garden.  Simmer for about 30mins until the sauce becomes thick.  Season with pepper.  You can add salt but we don't ever really use it in this house!
Pin Ratatouille (Glutenfree Eggfree Dairyfree Vegan) for Later:
Linky Love:
I have added this to Tasty Tuesdays over at the Honest Mum, Recipe of the Week at A Mummy Too and Cookblogshare over at Hijacked by Twins!!  And finally I will be linking this up to #YumTum over at the Mummy Toolbox!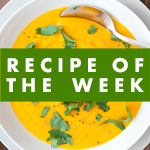 ---
---